In the ever-evolving world of art, contemporary steel wall art has emerged as a captivating and innovative medium. With its sleek and modern aesthetic, steel art is gaining popularity among art enthusiasts and interior designers alike. From abstract sculptures to intricate designs, steel wall art offers a unique way to transform any space. In this article, we will delve into the rise of contemporary steel wall art, explore its modern appeal, and discuss how it allows us to embrace a new aesthetic.
The Rise of Contemporary Steel Wall Art
Contemporary steel wall art has witnessed a meteoric rise in recent years. This surge in popularity can be attributed to several factors. Firstly, steel, being an extremely versatile material, allows artists to experiment with various shapes, sizes, and designs. It can be molded into intricate patterns or sculpted into bold, abstract forms. This freedom of expression has attracted artists, enabling them to push the boundaries of their creativity.
Furthermore, steel wall art provides a durable and long-lasting option for art enthusiasts. Unlike other materials that may deteriorate over time, steel is known for its resilience. This makes it perfect for both indoor and outdoor installations. Its ability to withstand harsh weather conditions adds to its appeal, making it a popular choice for public art installations.
Exploring the Modern Appeal of Steel Art
One cannot deny the contemporary charm of steel wall art. Its sleek and clean lines add a touch of modernity to any space. Whether it is a minimalist design or a bold statement piece, steel art possesses an undeniable allure that captivates onlookers. The reflective surface of steel adds another layer of intrigue, as it interacts with its surroundings and creates a dynamic visual experience.
Another fascinating aspect of steel art is its ability to play with light and shadow. Depending on the angle and direction of the light, steel sculptures can cast intriguing shadows, further enhancing their visual impact. This interplay of light and shadow adds depth and dimension to steel wall art, making it a compelling choice for contemporary art enthusiasts.
Embracing a New Aesthetic with Steel Wall Art
Steel wall art allows us to embrace a new aesthetic, blurring the lines between traditional and modern art forms. Its ability to seamlessly integrate with various interior design styles makes it a versatile choice. Whether it is a sleek and industrial loft or a cozy and rustic home, steel art can add a touch of sophistication and contemporary flair.
Moreover, steel wall art can serve as a statement piece, anchoring an entire room's design and setting the tone for the space. Its bold and striking presence can transform a blank wall into a stunning focal point, becoming a conversation starter for guests.
The use of steel wall art extends beyond residential spaces. In public settings, steel sculptures can add a touch of vibrancy and artistry to urban landscapes. They can serve as landmarks, contributing to the cultural identity of a city and bringing communities together.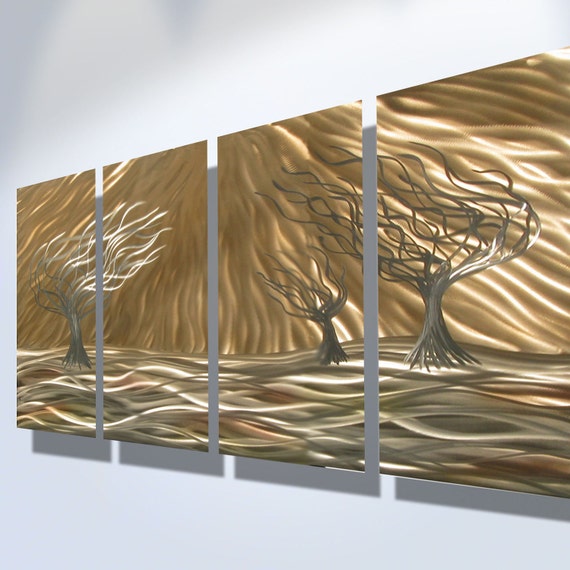 Modern Metal Wall Art 1 60 of 5000 results Price Shipping All Sellers Show Digital Downloads Metal Lovers Wall Art Metal Wall Art Home Office Decoration Unique Gift for Line Wall Hangings Metal Art Work Line Wall Art Couple 38 5841 6490 10 off FREE shippingZimlay Contemporary Framed Iron Disc Set Of 2 Wall Decor 23477 by Zimlay 1597 75 More Sizes Designart White Stained Glass Floral Art39 Floral Metal Circle Wall Art Disc o by Designart 725 SALE 132155 Martha Stewart Faye Gold Foil Metal Ginkgo Leaf Wall Decor by Olliix 76 75111Modern Contemporary Wall Art 1 60 of 5000 results Price Shipping All Sellers Show Digital Downloads poppy papaveraceae flower Contemporary Art oil Painting Oil on Canvas Modern Art Wall Decor 8 600Modern amp Contemporary Abstract Metal Wall Art AllModern
Showing results for quotabstract metal wall artquot 1371 Results Sort by Recommended Sale Wall Décor 129 158 4 Free 35 Day Delivery 2 Piece Montour Plaque Wall Décor Set 170 4 Free 35 Day Delivery Austere Angles II Wall Decor 173 5 Free shipping Austere Angles I Wall Decor 206OUR DESIGN Rave Metal Wall Sculpture 39900 Bronxx 59 Inch Wide Modern Metal Wall Art 20900 OUR DESIGN Retro Modo Metal Wall Sculpture by JasonW Studios 44900 FREE SHIPPING Decora Metal Wall Sculpture by JasonW Studios 35500 Framed Array III Indoor Outdoor Abstract Metal Wall Sculpture 39500 OUR DESIGNAmazoncom Touch of Class Urban Intersection Metal Wall Sculpture Multi Jewel Handcrafted Contemporary Decor Abstract Aesthetic Modern Metallic Square Blocks 3 Dimensional Wall Art Home amp Kitchen Home amp
Kitchen Home Décor Products Home Décor Accents Sculptures Wall SculpturesExtra Large Contemporary Metal Wall Art 1 60 of 1000 results Price Shipping All Sellers Show Digital Downloads Abstract Oversize Animals Deer Extra Large Metal Wall Art Print Unique Contemporary Art for Living Room Bedroom Gift 184 14000 FREE shippingContemporary Abstract Metal Wall Art Add Bold Style and Texture to Your Modern Home Decor Unique and Striking Metal Wall Hanging Corvine 13564 FREE shipping Love Sign Print On Canvas Black And White Wall Art Love Multi Panel Graffiti Style Poster Romantic Gift Creative Decor Above Bed Decor 121 6730 9615 30 off FREE shipping
Contemporary steel wall art has undoubtedly captured the imagination of art enthusiasts and interior designers alike. Its rise in popularity can be attributed to its versatility, durability, and modern appeal. Whether it is a mesmerizing abstract sculpture or a sleek minimalist design, steel art offers a captivating way to enhance any space. As we embrace this new aesthetic, we can expect to see more innovative and awe-inspiring steel wall art installations that continue to push the boundaries of creativity.